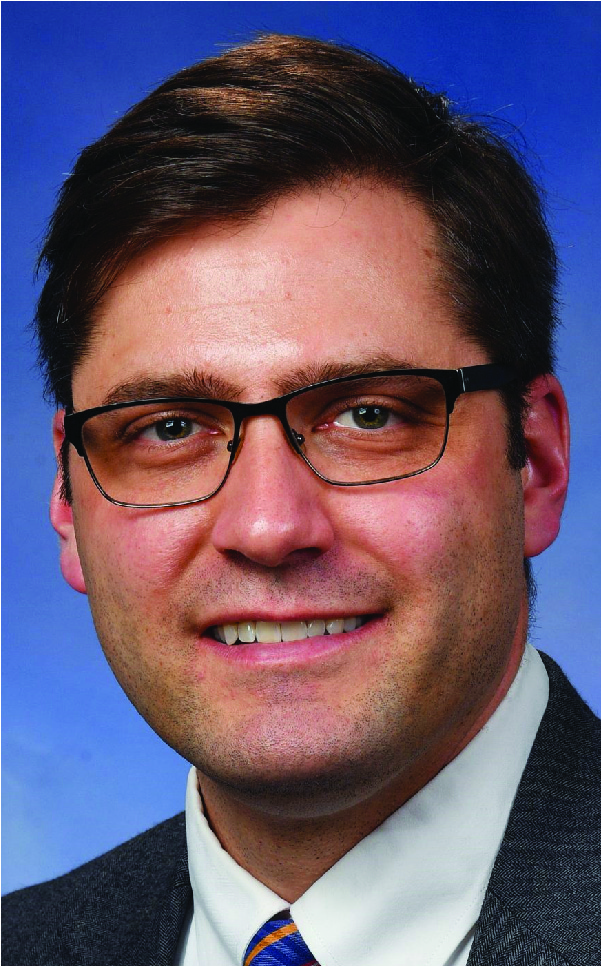 House Minority Assistant Floor Leader Andrew Fink
(R-Hillsdale)
3 Terms
House District 35
799 HOB
517-373-1788
Biographical Information
Born: July 30, 1985 in Ypsilanti
Marital Status: Married
Spouse: Lauren Fink
Children: Evangeline, Frederick, Dietrich, Van, Gustav
Education: Hillsdale College (2003-2006), B.A. in political science; University of Michigan (2007-2010), J.D.
Employment/Military Record: Office of career planning at Hillsdale College 2010-2011; Judge Advocate in the U.S. Marines--active duty from 2011-2014, Selected Marine Corps Reserve from 2014-2016; attorney at Fink and Fink, PLLC since 2014.
Governmental Leadership (Elected or Appointed):
Michigan House 35th District 2022
General Vote: 25,210 of 34,617 (72%)
Primary Vote: 8,215 of 14,409 (57%)
Campaign Finance Reports
Endorsements: ABC of Michigan PAC; County Road Association of Michigan Roads+ PAC (primary); Great Lakes Education Project; Michigan Chamber of Commerce; Michigan Farm Bureau AgriPAC; Michigan Freedom Network; Michigan Manufacturers Association; Michigan Realtors; Michigan Retailers Association; National Federation of Independent Business-Michigan; Property Management Association of Michigan PAC (primary); Right to Life of Michigan PAC; Small Business Association of Michigan

Michigan House 58th District 2020
General Vote: 30,208 of 42,416 (71%)
Primary Vote: 6,520 of 16,881 (38%)

Political Activities: Precinct delegate
Community Activities: St. Paul's Lutheran Church; American Legion; Federalist Society; Hillsdale College Alumni Board.

Copyright 2023, Gongwer News Service, Inc. All rights reserved.