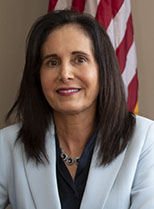 Anita Fox
Department of Insurance and Financial Services
Director
530 W. Allegan St., 7th Floor
Lansing, MI 48933
FoxA5@michigan.gov
517-284-8658
Biographical Information
Born: June 27
Education: Bachelor of Arts degree from Kalamazoo College in Spanish and Political Science and a graduate of the University of Michigan Law School.
Employment/Military Record: Ms. Fox practiced law in Washington DC and Michigan, managing complex litigation in federal and state courts and providing advice and counsel to individuals and businesses on a broad range of topics. She has lectured in the U.S. and abroad, in addition to teaching Insurance Law at Michigan State University College of Law.

Elections and Political Participation
Political Activities:
She has also served in a staff advisory role on several U.S. Presidential campaigns and was appointed by Governor Jennifer Granholm to serve as board member and legal counsel for several charitable foundations.
Copyright 2023, Gongwer News Service, Inc. All rights reserved.