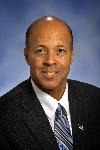 Larry DeShazor
Biographical Information
Home Address: Post Office Box 1148, Portage, MI 49081
Marital Status: Married
Spouse: Yvon
Children: Ricky, Jaron
Education: Bachelor's degree in business administration from the University of New Orleans
Employment/Military Record: Team manager for Farm Bureau Insurance.
Governmental Leadership (Elected or Appointed):
Michigan Senate 20th District 2010
Primary Vote: 5,660 of 29,633 (19%)

Michigan House 61st District 2008
General Vote: 28,303 of 55,425 (51%)
Primary Vote: 4,015 of 8,192 (49%)
Campaign Finance Reports

Michigan House 61st District 2006
Primary Vote: 3,194 of 8,884 (35%)

Other Offices: Member of Portage City Council for six years.
Community Activities: Member of Kalamazoo County Environmental Health Advisory Council; Kalamazoo County Chamber of Commerce Business and Community Development Committee; Kalamazoo County Convention and Visitors Bureau Board of Directors; Portage Planning Commission; Portage Economic Development Corporation; Rotary International; State Farm Insurance United Way Campaign; Aircraft Owners and Pilots Association; Kalamazoo YWCA Women of Achievement Selection Committee; chair, Boost MI Kids Coalition; Blue Ribbon Committee, Portage Public Schools.

Copyright 2022, Gongwer News Service, Inc. All rights reserved.