Blog Posts For The Week Of May 17, 2013 Through May 23, 2013
Senate Memorial Ceremony Takes On New Meaning
By Danielle Emerson
Staff Writer
Posted: May, 23 2013 3:01 PM
The Senate on Thursday held its 19th annual Memorial Day session, which I had hoped would be less emotional to get through than the one I attended last year, my first. I recall last year being taken aback by the whole thing, and again this year it was an interesting sight to see the attention paid to the flags of this country's armed forces and the sounds of "Taps" being played to remember the fallen.
Unfortunately, this year was no less emotional hearing the name of a soldier with whom I went to high school as his flag was placed in basket with eight others who also died since the last ceremony. In all fairness, I didn't know the guy very well. I graduated with more than 600 classmates at Utica Eisenhower High School, and yes, there were people who walked across the stage that I had never seen or met before.
But I do remember Todd Lambka, who rose to Army first lieutenant, in particular was well-known for being a nice guy. It didn't matter who you were or what clique you were part of, everyone knew he treated others with kindness and respect and encouraged others to act the same way.
It seems unfair for me to go on about him since undoubtedly others could say the same about someone they knew who died in combat. Needless to say, the experience brought a whole new meaning to the ceremony for me. I kept thinking, "This is one day and one hour of my life. I can't pretend to imagine what those families go through."
Indeed, the Senate gallery was packed to the gills with the families and friends of those who had died in combat and were to be honored, as well as other general onlookers. Glancing up at them throughout the ceremony was equally as fascinating as that first ceremony I went to last year in that while you could tell that this was obviously difficult for them, it was also something that meant a lot. Their body language suggested some level of pain when all they had to look at was that tri-folded flag being placed in a wicker basket instead of the lively face of the one they knew.
But the ceremony was very humbling, too. Hearing Todd's name at the ceremony also was a jolting reminder that so many of us have ties to members of the U.S. armed forces, something worth remembering heading into the Memorial Day holiday in between the parades and barbecues.
Teacher Of The Year Not Well Kept Secret
By Christopher Klaver
Staff Writer
Posted: May, 23 2013 2:00 PM
Gary Abud Jr., a science teacher at Grosse Pointe North High School, was named teacher of the year Thursday.
Announcement of the teacher of the year is supposed to be a surprise, but in the age of information, it's a really hard secret to keep, unless there are two teachers from the same school nominated.
How would the winner find out early? Let's see. It's May. The state has named the teacher of the year in May every year for the past several.
The announcement is always made at a rally at the school attended by the state superintendent of public instruction, members of the State Board of Education, members of the local school board and other various dignitaries.
Wednesday, the Department of Education announced Superintendent of Public Instruction Mike Flanagan would be visiting Gross Pointe North High "for one of his monthly scheduled school visits."
That would normally not raise flags. Mr. Flanagan, as the release said, conducts such visits monthly. He does not, however, announce them to the media every month, nor does he announce that state board members and others will be tagging along.
One might say, "OK, the regular education media then could figure out what was going on." But those releases now go out to a public distribution list. Anyone can ask to get them, including nominees and those who nominated them.
If the new teacher of the year is to remain in the dark until the announcement next year, it might be time for the department and the board to develop a new ruse. In the end, however, it probably matters little to Mr. Abud and future winners who get to enjoy the annual honor.
By Christopher Klaver
Staff Writer
Posted: May, 22 2013 2:49 PM
For those who have been around the Capitol for a while, Wednesday's Board of State Canvassers meeting included a familiar sight: John Pirich, attorney with Honigman Miller Schwarz and Cohn, and Michael Hodge, attorney with Miller Canfield, sitting at the witness table taking opposite sides of an election issue.
The two are among the top election lawyers in the state and are often pitted against each other on key issues, and some routine issues, before the board and the courts.
The scene has apparently become so routine that Mr. Hodge briefly lost track of which case he was arguing. It took him a few seconds looking through his notes to tell the board that he was working on behalf of Keep Michigan Wolves Protected.
It did not take any further looks through his notes, however, to argue that the board should approve the group's petitions, which it did over Mr. Pirich's challenge.
No Signs Of 2018 Tension Between Calley, Schuette
By Zachary Gorchow
Editor
Posted: May, 22 2013 11:23 AM
From the moment Lt. Governor Brian Calley and Attorney General Bill Schuette won their respective offices in 2010, the parlor game immediately began about which would emerge in 2018 as the Republicans' gubernatorial nominee.
We now pause for the usual array of caveats – neither has said he is running, both still have to win tough re-election bids in 2014, other potential candidates could emerge and five years is 300 lifetimes in politics.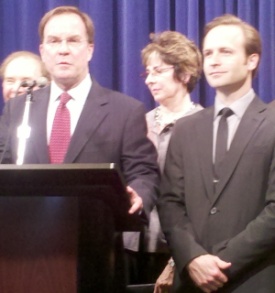 Attorney General Bill Schuette (left) and Lt. Governor Brian Calley (right) at a Tuesday news conference.
All that said, the two men as of today clearly are in the best position to run, both are ambitious and either can make a strong case for why he should carry the Republican banner.
The dynamic made for an interesting scene at a Tuesday news conference in which Mr. Schuette, Mr. Calley (standing in for Governor Rick Snyder), legislators and other officials announced a new, enhanced effort to encourage students and others to contact law enforcement about possible threats to school safety (See Gongwer Michigan Report, May 21, 2013).
Mr. Schuette praised Mr. Calley as an "outstanding lieutenant governor." Meanwhile, Mr. Calley said to Mr. Schuette, "thank you for your leadership on this issue."
Now, there has never been a hint of any issue between the two, quite the opposite in fact. And they have both employed Strategic National, the firm of Republican consultant John Yob, for political consulting, so that's another common tie.
Both come out of the same strain of the Republican Party that aligns with business interests and social conservatives. Neither is a tea party-type Republican although Mr. Schuette has staked out a handful of positions to the right of Mr. Snyder (and by extension Mr. Calley).
But an election inevitably leads to competition and candidates stating why they are the best choice. If both eventually run for governor in the same year, it will be impossible to avoid tension with such high stakes, making Tuesday's exchange of kind words a distant memory.
Geography = Corruption? Well, Lansing Doesn't Fare Badly On That Score
By John Lindstrom
Publisher
Posted: May, 21 2013 3:22 PM
A paper just published by the National Bureau of Economic Research suggests that state capital cities more geographically isolated from a state's population center are more likely to be corrupt. On that basis, Lansing is fairly honest, the paper concludes.
Why that would be, well the paper, written by Felipe Campante of the Harvard Kennedy School and Quoc-Anh Do of Singapore Management University, suggested a lot of it had to do with news coverage.
The two (who also wrote a paper looking at levels of corruption in world capitals) measured corruption by the number of officials convicted of federal crimes from 1976 to 2002 (and Lansing saw a few convictions during that time frame such as the House Fiscal Agency scandal of 1993) compared to where the capital city was located from the state's major population center.
States where the largest city was the capital city – Utah, Colorado, Massachusetts – had less overall corruption, and that which occurred got covered quite heavily by local press.
States where the capital city was farther from the largest urban area, and therefore farther from the major news sources, tended to see more corruption, the authors said, in part because they didn't get more overall news coverage.
The paper included a chart which tracked levels of corruption compared to relative isolation from the big cities. Mississippi, where the capital is Jackson – what is the urban center of Mississippi anyway? Oxford? Biloxi? Natchez? – had the worst overall corruption problem, followed by Louisiana where Baton Rouge is fairly isolated from New Orleans.
Michigan, where Lansing is little more than an hour from both Detroit and Grand Rapids, was relatively corruption free, according to the paper, along with states like Maryland, Rhode Island, Ohio and New Mexico.
Unclear How Jobs Argument Will Play In 2014
By Zachary Gorchow
Editor
Posted: May, 20 2013 3:42 PM
One of the important subplots every time the state's brightest economic minds convene at the Capitol to forecast state revenues for budgeting purposes is how the economy's condition in upcoming years will affect the next election.
So last week, when the House Fiscal Agency, Senate Fiscal Agency and Department of Treasury agreed on an economic forecast that included the remainder of 2013 and 2014, two numbers stood out when considering the implication for 2014 when Governor Rick Snyder presumably will stand for re-election:
The number of jobs will continue to grow although, albeit steadily as opposed to robustly. Wage and salary employment will rise 1.3 percent this year to 4.077 million and another 1.2 percent in 2014 to 4.125 million.
The growth in jobs will continue the gradual reduction in the unemployment rate, which is now at 8.4 percent. Forecasters projected the calendar year rate for 2013 at 8.6 percent and 8.1 percent for 2014.
In the first half of 2012, when the unemployment rate began creeping upward, Democrats started to pounce, leveling the "Where are the jobs?" critique at Mr. Snyder that the opposition party, whichever party it is, deploys in such situations. Mr. Snyder, whose staff had touted the once falling rate as a sign his policies were working, instead began discussing how Michigan's economic challenges remained and would not be solved overnight.
But after a recent peak of 9.4 percent in August, the unemployment rate has fallen a full percentage point and the number of people working has risen by 59,000.
What the forecast means is the political arguments are already set on the economy going into 2014.
Presuming the forecast holds, the Snyder campaign and the Republicans will say his policies have improved the economic climate. Democrats will counter that the bulk of the job growth since Mr. Snyder took office in 2011 stems from the auto industry rebound, especially when considering most of the growth occurred in 2011, before the big Snyder tax changes took effect.
Blog Authors
Gongwer Staff