Blog Posts For The Week Of August 21, 2015 Through August 27, 2015
No, Not Everyone Is Backing Detroit's Rebirth
By John Lindstrom
Publisher
Posted: August, 27 2015 2:56 PM
Some years ago the then edition of The Almanac of American Politics described Michigan politics as not being a battle of Democrat versus Republican, labor versus business, or urban versus rural. No, the almanac said Michigan politics is all about Detroit versus everyone else.
It certainly was true. So true, that once when this reporter was walking through the Capitol (when there were no particular Detroit issue before lawmakers) a couple on a tour saw me, figured since I was wearing a tie and a jacket I must be someone in authority (boy, were they wrong), rushed up to me and said, "Sir, please don't give any more money to Detroit."
Now, since Detroit has worked itself through bankruptcy and the downtown has seen an incredible redevelopment, we have a sense that the whole state is pulling again for the Motor City and excited to see it revive.
Except that an awful lot of people are not pulling for Detroit – would just as soon see Detroit vanish, in fact.
Exhibit one to the argument, a Facebook post put up Thursday by Sen. Jack Brandenburg (R-Harrison Township). To be fair, Mr. Brandenburg has never been one to hide his feelings, and has in the past been quick to criticize Detroit and its politics.
What triggered Mr. Brandenburg Thursday were comments made by Rep. Mike Callton (R-Nashville) in a Detroit News column that, "We cannot have a great state without a great city like Detroit."
Mr. Brandenburg read that with interest. "I have heard this rap before and I totally disagree!" he wrote.
"First, Michigan is and always will be a great state despite Detroit. I happen to think Michigan would do just fine without Detroit. If, over the last 50 years, Detroit would have been managed in a positive manner such as Grand Rapids or St. Clair Shores, it would not face the problems it faces today. Not to mention, the city would have contributed far more revenue into our state's coffers than it has over the last 50 years."
Mr. Brandenburg may have his points, but it is tricky in a Facebook post to argue the city should have been better managed when it was hit with a number of factors neither Grand Rapids nor St. Clair Shores faced. Just one would be a crook for mayor, and that would be Louis Miriani in the late 1950s and early 1960s, when Detroit was both at its population and economic peak, who thought it was just fine that people moved out of the city. I doubt many mayors in Grand Rapids or St. Clair Shores would so argue. Detroit also possessed a cultural structure that set the way for the city to blow up in 1967, followed by a massive loss of population.
More than Mr. Brandenburg, however, seemed to feel this way. As of this writing, only one person has commented on the post really defending the city (though one person called Detroit a basket case and applauded Governor Rick Snyder for taking the city through bankruptcy, and another prayed it would rebound). One person said Detroit was "costing the burbs" and that Michigan "could always do fine without Detroit!!"
The animosity between the city and the state is not as great as it once was, but it is there. It is still a divide that policymakers and the public will have to deal with for some time to come.
But despite Mr. Brandenburg's post, it is also clear many, many people in the state want Detroit to thrive. Last year in Mackinaw City, a shuttle bus driver to the ferries to Mackinac Island (again, wearing a tie and a jacket and the chap mistook me for someone who mattered) said to me, "Sir, please do something to help Detroit."
A Look At State Employment In Aftermath Of Right-To-Work
By Christopher Klaver
Staff Writer
Posted: August, 26 2015 12:59 PM
As the state and the unions representing the majority of its employees wrap up negotiations on the first contract where covered employees are not required to at least pay a bargaining fee to those unions, how might state employment change over the next three years?
Much of the change will likely depend on state employees and how much they actually support their unions.
Though there are some organizations that would like to see it (you know who you are), it is unlikely that state employee unions will disappear. As the teacher unions have experienced, they are likely to lose some members, but, also as the teacher unions have experienced, they are likely to retain enough members to remain forces in setting wages and benefits for employees.
First, will unions continue as the sole representative for any given employment area? If membership losses are small enough, that might be the easiest route for both the unions and the state. Both sides would be able to continue dealing with known quantities in overall negotiations and in resolving grievances.
Unions might, though, be able to craft the next round of contracts to put those employees who do not want to join on their own: they can negotiate their own pay and benefits and they can resolve their own grievances. This seems highly unlikely, however. Unions have long feared that management in any employer-employee dynamic would reward those workers operating outside the union.
And experience with the state suggests that management is not likely to be open to individual negotiations. One need look only to the non-exclusively represented state employees. Theoretically, these managers would already be in a position to negotiate compensation packages based on their performance and experience, but in reality, they get the same pay increases and benefits as the union employees, if that.
The state could develop a way to allow for such one-on-one negotiations, but it would require pushing authority for those decisions substantially further down the food chain and additional oversight by those above to be sure any pay increases are in line with the budget, the ultimate driver of those pay decisions.
Opening the grievance process could have some mixed results.
State managers and union grievance representatives already have relationships built, so each side has some idea what to expect from the other that can make the process go more smoothly.
A fresh face in the process, though, would bring a new, unknown dynamic.
The current process is also largely free to employees: they are required to use a union representative and that person is paid through union dues for most issues. Taking employees out of the union grievance process might also mean taking more money out of their pockets should they have an employment issue.
The idea of employees shopping through the unions, as some have promoted as an argument for right-to-work, is probably not viable. First, it is not likely, given the relationships between them, that the various unions are simply going to open themselves to any state employee who wants to join (though they have not in the past been above lobbying to take over each other's bargaining units).
There are some positions in state government that require a simple knowledge of employment law and the state budget process to represent. There are many, though, that require specialized knowledge of the job and the work environment that a union not representing that post (outside that note above) is unlikely to put in the resources to learn.
Ultimately, the question of change will depend on how many state employees are clamoring to get out of paying unions dues. If that number is significant, there will likely be changes in the state employment process. If it is not, it is likely those few resigning from the unions will be written off as acceptable costs of doing business for the unions and things will go on as they are.
The Forgotten Scandal: 'Daniel West,' The Imposter Legislator
By Zachary Gorchow
Editor
Posted: August, 25 2015 2:49 PM
The scandal involving Rep. Todd Courser and Rep. Cindy Gamrat has prompted some entertaining look-backs at infamous Michigan political scandals.
The listicles from the Detroit Free Press and MLive are fun and helpful. Helpful because they serve to remind that while the Courser-Gamrat mess is bad, it really is nothing compared to the full-blown corruption seen with the Purple Gang and the House Fiscal Agency that enveloped vast swaths of the Legislature.
But while both pieces offer a great trip down memory lane and are well-researched, there is one doozy that lives on in Capitol lore that warrants inclusion: the scandal involving "Daniel West," the imposter legislator.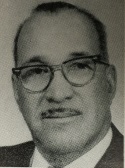 The official House photo of the man claiming to be Daniel West
In 1962, voters in Wayne County's 6th House District elected a Democrat calling himself Daniel West as one of three representatives for the district in Detroit (House elections worked differently then, a digression we will sidestep here). He had a sterling resume, claiming an undergraduate degree from Swarthmore College and law degree from Yale University. He was married with two children and a retired attorney.
Mr. West, according to his official biography in the 1963-64 Michigan Manual, had held various local offices and was at the time of his election a retail hardware dealer.
In 1964, he easily won re-election.
Then his scheme unraveled. According to The Associated Press (sadly, one of the few portions of the Gongwer News Service archives that is missing is from late 1964 and early 1965), a detective investigating a complaint against Mr. West discovered his fingerprints matched those of a felon who served time in three prisons under different names for burglary, larceny and forgery.
"Daniel West," in fact, was a New York attorney who died in 1961. Whoever it was that won those two elections to the Michigan House stole Mr. West's identity.
Once "Mr. West" was revealed to be a fraud, the House, in the only known time to have taken such action, refused to seat him when the Legislature convened for the start of the 1965-66 term, and the seat was declared vacant.
The man claiming to be Mr. West was indicted on 117 counts of income tax fraud in connection with a tax accounting service in which he allegedly had made false returns to unjustified refunds for his clients.
A warrant for the arrest of "Mr. West" was issued in July 1965, but he fled and did not show up in U.S. District Court. There were a couple of "Unsolved Mysteries"-esque sightings of the man who claimed to be Mr. West, both in Canada, once in 1965 and again in 1975. The latter reported sighting occurred in Windsor, Ontario, where a man who worked on Mr. West's 1964 campaign insisted he had spotted him at a restaurant, according to the AP. The man reported that when "Mr. West" saw him staring at him, he got up and left without ordering any food.
Otherwise, "Mr. West" successfully evaded authorities. His exact age is unknown, but he presumably would be about 100 years old if still alive today.
The Capitol will surely see various scandals in the future. But it is impossible to imagine a repeat of what happened with "Daniel West."
Something To Think About As The New School Year Approaches
By John Lindstrom
Publisher
Posted: August, 24 2015 4:09 PM
School begins soon. It means books, school clothes, bake sales, forgotten lunches, athletics, school tests, anguish over homework, anguish over grades, anguish over lice.
Oh yes, lice. So many parents have learned the true meaning of nitpicking in recent years, it isn't funny.
Well, here's some news sure to make one … well, a scratch your head joke is probably not appropriate. But certainly it is news to think about:
Super lice have arrived in Michigan. We are serious. According to a series of reports, Michigan is one of 25 states that have reports of super lice, resistant to common over-the-counter treatments that parents have relied on. These lice have mutated into varieties that are not affected by the pesticides used in those over the counter products.
They still do respond to prescription treatments, according to reports. But that also raises the risk that they may mutate further into varieties that laugh in little lice ways at the stronger chemicals.
Plus, reports are these lousy things can possibly transport from one tow-headed scalp to another more quickly.
State officials have not yet issued any new guidelines on these wee nasty little beasties (the current manual was issued fairly recently, in 2013, but the first scientific reports of the new louses have come in the last few weeks), but hygiene, of course, remains paramount (along with corralling one's wiggly rug rats into position to examine their scalps).
Remember, children are our future. Guess we must assure the future is not too, ahem, lousy.
Courser's Cryptic Messaging
By Danielle Emerson
Staff Writer
Posted: August, 21 2015 12:54 PM
Earlier today, embattled Rep. Todd Courser posted a quote to his Facebook page by the second president of the United States, John Adams, speaking about ruin, which has since been removed.
"I have accepted a seat in the (Massachusetts) House of Representatives, and thereby have consented to my own ruin, to your ruin, and to the ruin of our children. I give you this warning that you may prepare your mind for your fate."
Hmmm.
As mentioned, the post has since been removed from his Facebook page, though he still links to it on his Twitter (and I'm not sure how much longer that will be true once this gets published).
The quote is somewhat cryptic, to be sure, but is Mr. Courser (R-Silverwood) calling his own fate? That may not be surprising as an investigation into the potential use of state resources between he and Rep. Cindy Gamrat (R-Plainwell), with whom he had an affair, expects to wrap up within the next few days.
Or is he warning a successor?
Mr. Courser has since posted a statement on his Facebook thanking those who have sent messages of support to him and his family.
"Your path is yours, you will have many who will walk parts of it with you, and some who will walk it against you, but none can walk it for you - I appreciate all of those who have been praying for me and my family and who have sent blessings of support! I can't tell you how much they have meant to us!"
Further complicating matters, The Detroit News reported late last night that a private investigator hired by Ms. Gamrat to identify the individual who owns the phone number used to send her and Mr. Courser text messages threatening to expose their affair if Mr. Courser did not resign is supposedly close to revealing that name pending a second confirmation. Which perhaps is like saying I will announce I won the lottery pending a second confirmation, but also, does it matter who sent the texts since they don't rise to the level of blackmail or extortion given the texter never asked for money or anything else of value?
In any case, the spokesperson for Ms. Gamrat told the News the name is not Ms. Gamrat, her husband Joe, Mr. Courser, Mr. Courser's brother, or any of the legislators' former aides, Keith Allard, Joshua Cline and Ben Graham.
Is it just me, or has this whole ordeal felt an awful lot like the game Clue?
Blog Authors
Gongwer Staff