Blog Posts For The Week Of November 18, 2015 Through November 24, 2015
Booth Newspapers Rises Again In State Government Communications
By Zachary Gorchow
Editor
Posted: November, 24 2015 11:20 AM
Governor Rick Snyder's naming of longtime journalist Meegan Holland as his new communications director cemented something that has been developing for some time now – many key state communications officials have significant experience in the old Booth Newspapers chain.
Now known as MLive, Booth was the former umbrella organization covering the Ann Arbor News, Jackson Citizen-Patriot, Kalamazoo Gazette, Muskegon Chronicle, Grand Rapids Press, Flint Journal, Saginaw News and Bay City Times.
Ms. Holland held a variety of leadership roles as a Booth editor over the years. She'll be working closely with Dave Murray, the newly named press secretary for Mr. Snyder, who spent his career mostly with the Flint Journal and Grand Rapids Press as an education beat reporter.
In the departments, Chris Gautz handles the spokesperson role at the Department of Corrections. He had a stint at the Jackson Citizen-Patriot (and later worked at Gongwer News Service). Bob Wheaton, a former reporter at the Flint Journal and editor at the Citizen-Patriot, is a spokesperson at the Department of Health and Human Services.
Jeff Cranson, a former longtime deputy metro editor at the Grand Rapids Press, heads up communications now for the Department of Transportation. Ed Golder, a former editorial page editor at the Press, handles communications for the Department of Natural Resources.
Katie Bach, a former Flint Journal community news editor, is the media affairs manager at the Michigan State Housing Development Authority. And Gisgie Davila Gendreau, a former reporter in the Booth Lansing Bureau, is the communications director for the Department of State.
Of the eight, five went straight from Booth to the state while the other two worked other jobs before landing in state government. Some of this is a sign of the terrible turbulence that continues to roil the newspaper industry.
The situation with Booth from 2009-11 was dire. The Ann Arbor News discontinued its print publication. Several other newspapers in the chain reduced print publication days. Once columnist Peter Luke left the Booth Lansing Bureau, which in the 1980s and 1990s and still into the 2000s was a journalistic force in this city, the chain had no state Capitol presence for a period.
Thankfully, Booth, upon rebranding as MLive, revived the Lansing Bureau and hired good people to restore a proud tradition. Still, it has not been all sunshine and rainbows since then. MLive laid off Ms. Holland and another talented journalist in the Lansing Bureau in cost-cutting moves about a year ago.
When that happened, Ms. Holland said she had no regrets and it was time for new adventures. She'll be in good company with her fellow former Boothies as she gets started.
Leonard Secretly Roots For MSU In Columbus
By Alethia Kasben
Staff Writer
Posted: November, 23 2015 2:44 PM
If you thought this Spartan was going to let Monday go by without figuring out how to write about Michigan State University's win over Ohio State this weekend, you were wrong. Rep. Tom Leonard III, an alumnus of the Michigan State University College of Law, went into the notoriously hostile Ohio Stadium to watch the MSU victory "undercover."
As a reminder, virtually everyone expected MSU to lose big. But the Spartans pulled through, winning 17-14 after a 41-yard field goal as time ran out.
Mr. Leonard traveled to the game his wife Jenell Leonard, the Michigan Film and Digital Media Office commissioner. While Mr. Leonard is technically wearing red, it is a campaign shirt and has nothing to do with the Buckeyes.
He is wearing a Detroit Tigers cap, and as anyone who has attended a Cleveland Indians game in Cleveland can attest, that is like throwing chum to the sharks.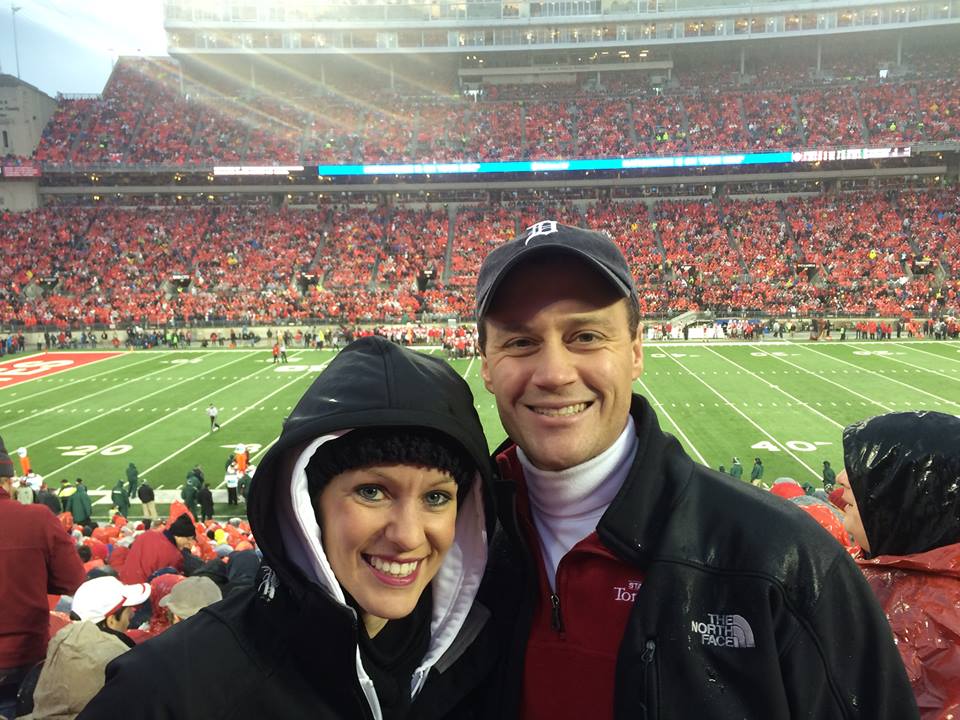 Rep. Tom Leonard III (R-DeWitt) and wife Jenell Leonard at the Michigan State-Ohio State football game in Columbus, Ohio
Of note, Mr. Leonard obtained his bachelor's degree at the University of Michigan. After the MSU-Michigan game in October ended in a stunning last-second Spartan win, Mr. Leonard said on his Facebook page that he was "still a Wolverine," but added it was "time for Sparty to go get that national title."
However, he did say Monday if Michigan pulls out the win against OSU at noon Saturday, he might have to root against MSU when they play Penn State at 3:30 p.m. If MSU loses, then the winner of the OSU-Michigan game wins the Big Ten East Division.
Other Spartans celebrating the victory Saturday with less conflicted emotions were House Minority Floor Leader Sam Singh (D-East Lansing), who wrote he was not ashamed and was crying after the game; Sen. Rick Jones (R-Grand Ledge), who graduated in 1980, wrote on his Facebook the snow that fell on the Lansing region didn't matter, because the Spartans won; and Lt. Governor Brian Calley, another MSU alumnus, also tweeted throughout the game as he often does.
A Michigan Native Busted Former U.S. Rep. Mark Foley
By Zachary Gorchow
Editor
Posted: November, 20 2015 2:31 PM
There's a compelling read available today in Politico featuring the first-person account of Zack Stanton and how he turned over evidence to ABC News of former U.S. Rep. Mark Foley's lewd and sexually charged instant message exchanges with congressional pages.
Mr. Stanton, an Anchor Bay native who went to Michigan State University, worked on the 2002 gubernatorial campaign of Democrat David Bonior, the 2010 gubernatorial campaign of John Freeman and then was a speechwriter and policy advisor in the U.S. House, working with U.S. Rep. Sander Levin (D-Royal Oak).
But before those duties, he worked in the now extinct congressional page program, which placed young people in clerical roles, bringing documents to and from the House floor.
Without trampling on the piece too much, the basics are as follows. One of Mr. Stanton's fellow former pages provided him with transcripts of instant message exchanges between that page and Mr. Foley after Mr. Foley's office denied burgeoning allegations of wrongdoing.
That page did not want Mr. Stanton to share the information with the media, but Mr. Stanton decided to do so anyway and then was horrified when ABC News, after he insisted it redact any mentions of the page's name, missed one and the name went public.
Confronted with the transcripts, Mr. Foley immediately resigned, but Democrats, who were on their way to taking control of Congress, had the final piece of ammunition necessary and won the House and Senate.
Mr. Stanton signaled he decided to out himself as the source in the wake of former U.S. House Speaker Dennis Hastert's guilty plea to charges he covered up financial transactions that were hush money to prevent someone from revealing damaging information about him. National news reports have said the damaging information was allegations he committed child sexual abuse while a high school wrestling coach.
Mr. Hastert's speakership imploded in large part because several U.S. House Republicans told him of allegations that Mr. Foley was coming onto pages and he apparently had done nothing. At the time, this was seen as incompetence. But Mr. Stanton – and others – now say they wonder if Mr. Hastert feared someone would expose his past if he went after Mr. Foley.
Mr. Stanton's Facebook page was full Friday of friends, and many Michigan Democrats, commending him for doing the right thing and bringing the Foley scandal to light.
Booher: A Master Deer Hitter
By Danielle Emerson
Staff Writer
Posted: November, 20 2015 12:00 PM
As the Legislature takes a break until December to celebrate the state's deer hunting season and the Thanksgiving holiday, the question most years is, who got the most deer?
The Senate GOP, on its blog, has likely already determined a winner for that: Sen. Darwin Booher (R-Evart).
But unfortunately for Mr. Booher, he hasn't got deer in the traditional hunting manner. Instead, he has actually hit 11 deer, with his vehicles, going to and from his work in Lansing since first being elected to the Legislature in 2004.
"I am just lucky I guess, or is that unlucky?" Mr. Booher says in the blog.
Mr. Booher said he's totaled five vehicles hitting deer since joining the Legislature and wrecked three others, including one especially bad incident that set off both air bags and almost caused him to go off the side of a bridge. The average he had to pay to fix his cars not totaled was around $3,800.
October and November historically have the highest number of vehicle-deer crashes in Michigan, the blog notes. Nationally, through December, drivers have a 1 in 169 chance of hitting a deer. In Michigan, those odds are 1 in 197. And in Mr. Booher's district, the odds are 1 in 60.
For all of 2014 in Michigan, there were nearly 46,000 car-deer crashes that resulted in 1,329 injuries and eight deaths. Annually, there is an average of 134 deer-vehicle crashes each day.
The problem for Mr. Booher has become so frequent that he says he just buys used cars instead.
"Now, I just buy used cars that are dependable, but not all that pretty. I like big Mercurys," he said. "They hold up pretty good. That way, if I hit another deer, it won't be so expensive."
Blanchard Opines On Governors Trying To Stop Syrian Refugees
By Zachary Gorchow
Editor
Posted: November, 19 2015 3:39 PM
It is hard to believe, but January 1 will mark the 25th anniversary of when former Governor James Blanchard's tenure as governor ended.
If you were born in the mid- to late-1970s (as I was), Mr. Blanchard was the first governor to register on the radar screen. I have no memory of William Milliken as governor (I was 7 when his term ended).
Mr. Blanchard has had an interesting post-gubernatorial career. He was of course U.S. ambassador to Canada, and then there was his ill-fated 2002 comeback attempt to win the governorship in which he finished third out of three candidates in the Democratic primary. He has had a long run at the national mega-law firm, DLA Piper, in government affairs. He was a key voice of support in the new bridge connecting Detroit and Windsor, Ontario.
And he has remained an involved figure in Michigan politics. He got personally involved in the 2013 battle for Michigan Democratic Party chair and was on hand at the state party convention in Detroit to back Lon Johnson over Mark Brewer.
Mr. Blanchard was back in the spotlight Wednesday when his friend and political ally, former President Bill Clinton, received an award from Mr. Blanchard's new institute at Michigan State University, the former governor's alma mater.
Afterward, Mr. Blanchard was asked about so many governors rushing this week to try to stop Syrian refugees from entering their states in the wake of the terrorist attacks in Paris and Lebanon. Governor Rick Snyder has been less strident, but helped start the push when he said his administration would halt its efforts to bring Syrian refugees to Michigan unless and until the federal government reviewed its vetting procedures.
"I think they probably jumped too quick," Mr. Blanchard said. "I think there needs to be a more thoughtful policy to protect our people. It's always important not to overreact to things – sometimes your first information is the wrong information."
But Mr. Blanchard hastened to add he was hesitant to second-guess those decisions.
"I'm not a governor. I'm no longer the governor of this state or any state, and it's their call," he said. "I'll have to look at the information they have in which they base their decision. So I'm not about to critique anybody, but as a general rule, you don't want to overreact too quickly to anything that goes on, you need to really be thoughtful about it."
The key now, Mr. Blanchard said, is to work with U.S. allies to address both terrorism and the refugee crisis.
"This problem, this challenge is going to go on for a lot longer," he said.
So in honor of the former governor's return to the limelight this week, we'll close with this ad from his 1986 re-election campaign in which he took an astonishing 68.1 percent of the vote. The graphics alone make this worth your time.
Trails Expanding, But Still Lacking Some Key Amenities
By Christopher Klaver
Staff Writer
Posted: November, 18 2015 3:05 PM
The Department of Natural Resources has been working feverishly to meet Governor Rick Snyder's goal of expanding trail systems in the state, particularly the Iron Belle Trail that he has pushed from early in his tenure.
One of the goals of the trail, from Belle Isle to Ironwood, is to interconnect the communities around the state with trails. Under the plan, one could hike, or bicycle, from any community to any other, and then hike or bike around that community on the local trails.
As an avid hiker and sometime cyclist, I applaud the idea. Whole new areas of the state are opened up to safe travel for those not behind the wheel.
But, as an avid hiker, I also know that a key to a good trip is to stay hydrated.
The state and communities have done a good job planning the travel part of the equation, but are still lacking in addressing the two ends of the hydration cycle. And the latter end can be of particular concern.
While it would be helpful to have more drinking water sources along many of the trails, there are multiple ways for hikers to bring the water they should need with them. And even the longer trails at some point pass through parks that usually have a water source.
The other end of the cycle, though, can be a point of consternation.
One might think, "What's the problem? Just find a tree." And that works in the more rural stretches of trails.
But many of the new trails have been built along old railroad beds. Even in some of the rural areas, that puts the trails along people's back yards. I can imagine (I have not tried it) that many living along the trails would not appreciate looking out their window to see a person answering the call. There are areas a hiker might have to walk a mile, or substantially more, to find a secluded relief spot.
Where the trails pass through small business areas, one might think, would be a possible point of reprieve, until one spots all the "bathrooms for customers only" signs. If you are just passing through, you are not welcome in the loo.
What's the big deal if you get caught passing those excess fluids along the edge of the trail? The scouts in my troop asked that question last summer as we hiked the Lansing River Trail during one of our outings.
The big deal, unfortunately, is an invitation to join the state's sex offender registry (indecent exposure) and, in my case, the end of my term as scoutmaster.
I have seen improvements in the last year, particularly. I have seen portable toilets popping up in a number of communities. But those facilities will need to grow as the state and local communities work to expand their trail networks and the numbers of people using them.
Blog Authors
Gongwer Staff