The K-12 schools budget for the 2015-16 fiscal year is expected to provide an increase in the foundation grant to school districts of $70 to $140 per pupil, sources said Friday.
These sources, speaking on condition of anonymity, said the increase would be disbursed through the so-called 2X formula where those districts receiving the minimum foundation grant receive twice those getting the basic foundation grant, with those in between getting an increase somewhere in the middle of the range.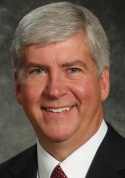 MACKINAC ISLAND - Michigan will need to raise revenues to fund road improvements, but Governor Rick Snyder said some of that revenue increase could come about partly through sources such as economic growth and greater government efficiencies.

MACKINAC ISLAND - There was general agreement among panelists at the Detroit Regional Chamber Mackinac Policy Conference that a road solution would require new funding, but there was complete agreement that it has to come quickly.