News Update
Thursday, April 17, 2014, 02:49 PM
With landmark agreements tentatively in place on how to handle the pensions of retired Detroit city employees as part of extracting the city from bankruptcy, the prospect of the Legislature confronting a vote on a proposed $350 million package to pay for the pension commitments is looming ever more real.
One day after the group representing retired Detroit police officers and fire fighters agreed to a deal where those retirees would see no reduction in their monthly pension checks and instead see their cost of living adjustments curbed, the board that oversees the pension system for non-uniformed employees agreed to a deal with 4.5 percent cuts in pension checks to those employees and the elimination of COLAs.

With less than a week left until the filing deadline, Republicans and Democrats are still trying to lock down candidates in some potentially competitive House districts.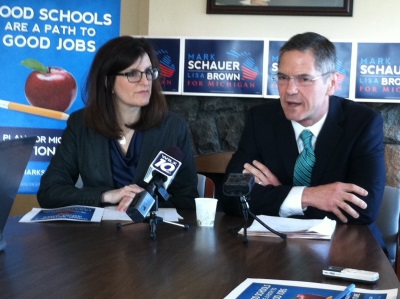 Saying a focus on education will be his chief economic policy, Democratic gubernatorial candidate Mark Schauer outlined an education plan that he said would ensure the state's School Aid Fund would be used only for pre-K through 12th grade, that all charter and cyber schools would have to participate in the public school workers retirement system, and that a study would determine what it actually costs to teach a child.

In unveiling what it labeled it's latest "attack ad" against Democratic gubernatorial candidate Mark Schauer, the Republican Governors Association blasted Mr. Schauer for voting for a tax on nursing home beds when he was in the state House.

The transportation funding plan floated by House Speaker Jase Bolger and his colleagues nearly two weeks ago and planned for discussion in the House Appropriations and Transportation and Infrastructure committees on Thursday will need both already introduced bills and newly drafted legislation, supporters said Wednesday.
Also In Gongwer