Aramark will increase staffing levels in its food service operations at Michigan prisons to 120 percent of required levels, a move the new state overseer of the Aramark contract said would prove critical to stabilizing operations and ensuring improvements in what has been a troubled operation.
The firm also has increased starting wages for employees in some parts of the state to improve recruitment, but not by what Ed Buss, the contract overseer told reporters at a Wednesday roundtable. Mr. Buss had said the wage increase would average 2 percent across the state, which Gongwer News Service reported in a News Update, but Aramark and the Department of Technology, Management and Budget later said that information was incorrect.

A new ad from the Democratic Governors Association that insists Governor Rick Snyder cut $1 billion from K-12 schools has prompted Republicans to ask television stations across the state to pull the ad, which they continue to call an "outright lie."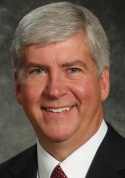 In the second poll in a week, Governor Rick Snyder is shown leading his Democratic opponent Mark Schauer by 6 percentage points.

As happens regularly when the issue is raised, county officials asked for more control over capture of their taxes and tax increment finance authorities said that would leave them without enough money to operate, this time as the House Commerce Committee debated legislation to revise funding for downtown development authorities.

Without changes, new rules to regulate filing for medical marijuana cards could wait until next year.