News Update
Wednesday, October 1, 2014, 11:12 AM
Republican U.S. Senate candidate Terri Land has sharply shifted course in recent days in her responses to questions of whether she supported the government bailout of General Motors and Chrysler in 2008 and 2009 with her campaign now saying she would have voted for the bailout had she been in the Senate at the time.
In comments last Friday to The Oakland Press and Tuesday to Gongwer News Service, Ms. Land's spokesperson, Heather Swift, said Ms. Land "supports the action taken to protect the auto industry." She said the comments do not represent a change of position for Ms. Land.

Senate Majority Leader Randy Richardville on Tuesday said he is likely to discharge from committee to the Senate floor a bill he sponsors to allow McLaren Health Care to build a new facility in Oakland County.

Telling reporters that the voters needed to know "the truth" was what helped him to say charges that he cut education spending was a lie, Governor Rick Snyder said there are other issues Democrats have lied on too.

U.S. Rep. Gary Peters, the Democratic U.S. Senate candidate, began deploying one of the major items in his arsenal Tuesday, calling out his Republican opponent, former Secretary of State Terri Land, for the troubled Business Application Modernization project that an audit lambasted Ms. Land's Department of State and the Department of Technology, Management and Budget for botching.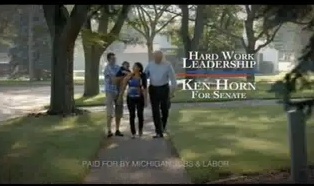 An individual with the campaign of Rep. Stacy Erwin Oakes for Senate has formally filed a complaint with the Bureau of Elections that a nonprofit violated campaign finance law days after the group came under heavy scrutiny for potentially engaging in express election advocacy, which is prohibited by law.
Also In Gongwer